The LSU Tigers have been on a pass rushing tear as of late. In the last two games, LSU has been able to close out games for two weeks in a row thanks to a string of clutch sacks versus Mississippi State and Ole Miss respectfully.
Two players that have made vast improvements in their pass rushing technique have been Sam Montgomery and Barkevious Mingo. Their form couldn't come at a better time, as both are rated as first round prospects for this year's NFL Draft.
As strong as they are for their size, the best aspect in both of their game is their speed. The key part of being an elite pass rusher is playing to your strengths. There are few defensive ends in football that are elite bull-rushers and speed-rushers. While Montgomery & Mingo are both solid bull-rushers, their speed is what sets them apart.
In this day in age where passing offenses reign supreme, the defensive end has become a glamor position. This has also made for an influx in the variety of defensive end body frames. While Mingo is one of the thinnest members on LSU team, he should use his frame more often to his advantage.
Arkansas is a team that can't protect Tyler Wilson. Their tackles are atrocious and Wilson is notorious for sitting in the pocket for as long as possible. There is no reason for Montgomery and Mingo to not have huge games. Let's hit some tape to see how Mingo and Montgomery could be effective against the Hogs.
As we see in this slide, Montgomery is lined up as the right side defensive end to the left side of the offensive formation. This is also the quarterback Tyler Russell's blind side, which gives Montgomery an even bigger advantage. To help "Sonic Sam" even more, Russell is a quarterback who loves to hold on to the football for a long time. Because there is no tight end to his side, he also knows for the first part of the play that he will be getting a chance to go one-on-one against an average tackle. This allows him the freedom to use any kind of pass rushing move he wants.
Right off the snap, We see Tyler Russell begin a play action fake to running back Nick Griffin. The left tackle for Mississippi State, No. 75 Blaine Clausell, take a wide step to his left to compensate for Montgomery's speed. Montgomery takes a great first step toward Clausell, albeit he is a little high. But a high fire off is fine from Montgomery if he is looking to attempt to use a finesse move. Montgomery uses a step with his left foot as if he is going to go straight at or to the inside of the left tackle Clausell.
This next slide shows Montgomery's great athleticism and body control. There are a few things from this slide that makes this rush from Montgomery one of the best I've ever seen from him.
1) Montgomery's first step towards Clausell confused and froze him in his tracks. At first, it looked as if Montgomery was going directly into him, but he uses his elusiveness to take a quick step to the outside.
2) Montgomery does a great job of getting low and taking a relatively tight angle to the quarterback. This is a great job of trying to turn the edge, but an even better job of not giving Clausell's much of his body to be engaged.
3) The perfect example of point #2 was the cover of ESPN Magazine. On the cover, Montgomery fires off high into Alabama guard Chance Warmack by "bull rushing him". By simply trying to overpower Warmack, it takes away Montgomery's best asset (speed) and allows Warmack to use his (strength). Granted the play call could have called for Montgomery to engage Warmack in that fashion, Montgomery is more effective in other ways.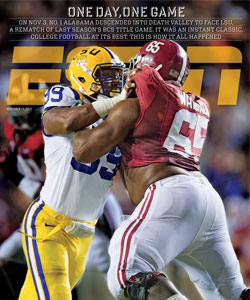 4) While Montgomery is low to the ground, he does a brilliant move with his left arm. As Clausell is beginning to get beat to the outside, his last option is for him to try and stretch out his arms to slow down Montgomery. But Montgomery does a great job of chopping down Clausell's arms at the elbow. Notice Clausell is leaning into Montgomery, which is never good for a tackle going against a powerful rusher.
In this next slide, Montgomery blows by Clausell and does a pretty good job of keeping leverage. Clausell was beaten, fooled, and put off balanced so badly that he was not even close enough to at least attempt to commit a holding penalty on Sonic Sam.
Because coverage in the back end was so superb, Montgomery nearly gets a sack. But he disrupts the throw by crushing Russell from his blind side.
In the next three snaps, LSU has a tackle for loss by Freak Johnson, a sack from Montgomery and a sack from Mingo (which I all had slides for but I got too busy eating turkey and other good stuff). On both sacks, Montgomery and Mingo used their speed on the outside, used a finesse move and crushed the quarterback.
Conclusion
Arkansas is terrible. They are a team that has given up. They have only weapon in Cobi Hamilton, who dominated the Tigers the last time they played in Arkansas, is the only player that should give the LSU secondary fits. The time before that in the Natural State, senior running back Dennis Johnson was effective versus LSU as a freshman. If LSU can stop those two, there is nobody else that should require more than man coverage.
With the way Arkansas' tackles have been playing this year versus elite competition, there is no reason for Montgomery, Mingo and the rest of the LSU defensive ends to at least rake in 4 total sacks. I can easily see Mingo and Montgomery get two sacks a piece. As Billy Gomilla noted, Arkansas doesn't give up many sacks and Mingo and Montgomery have been inconsistent in pass rush. But If they fire off low and hard on obvious pass rushing situations as they have at times recently, attack half a man with array of moves (including bull rushes), they should be unblockable.