HOW
JOE BURROW BECAME
JEAUX BURREAUX
On Saturday night the inevitable finally happened when a 23 year old Southeastern Ohio man named Joe Burrow took home the most coveted individual award in all of college sports...but it wasn't the distinguished honor and the stunning history in motion that completed the night, it was the people around him that loved and supported him being there to share in the moment and not a care or a worry about who doubted him...at least for Saturday night.
This was a night for the true believers, those closest to Joe to take it all in.
From the giant teddy bear figure of Coach O, with that mindblowing pause in the moment where Joe says "Coach O..." (just gives ya chills, dunnit?) to Ryan Day, Ohio State coach aka "the guy who gave him a chance before we did" (a potential CFP title game opponent) and the offensive coaches Steve Ensminger and Joe Brady, all received the praise they deserved; but the most obvious emotional elephant in the room is Joe's relationship with his father.
Jimmy Burrow, the father who'd missed most of his three sons' college careers (due to his coordinator gig with the University of Ohio) finally retired in 2019 to be able to watch his son start for a Division I college team and compete against the highest level in the SEC.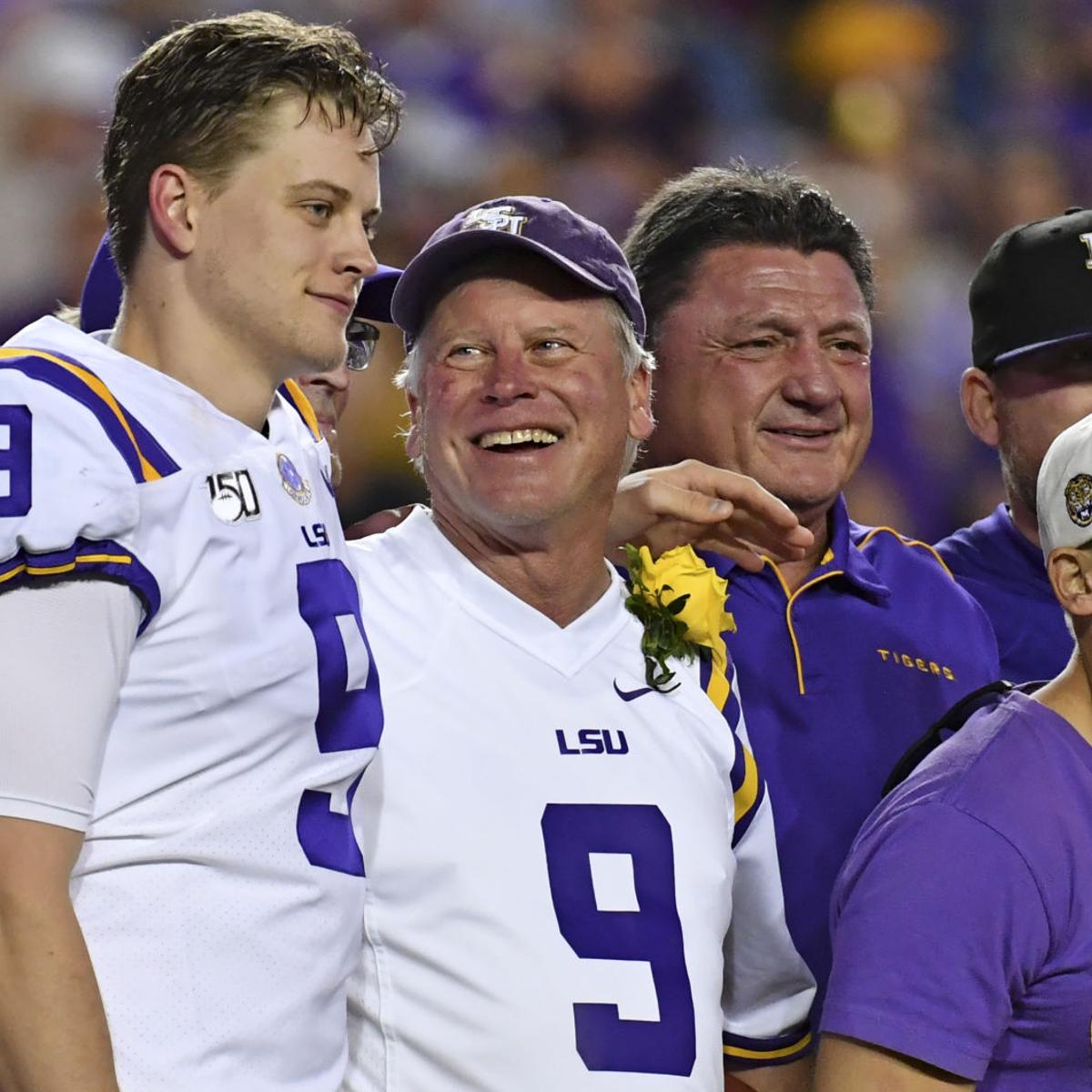 Since his father's retirement, Joe's dad has witnessed his son complete a life altering regular season that's not only re-ignited his perceived dormant NFL future, he's now the undisputed #1 pick in next Spring's NFL draft.
Earlier in the season, we saw Joe wanting to prove to his father just how good he always has been, throwing touchdowns and leading the offense down the field with a fury and aggression as if hell-hounds were on his trail.
But now, we feel like he's at peace...he's shown his dad what he's been missing all these years...but now Joe's just playing football with a relaxed edge and a chip still firmly on his shoulder.
The renegade quarterback's 2019 season, capped off by a Heisman Trophy and a spot in the College Football Playoff, has been an accomplishment many couldn't have imagined as even a remote possibility going into the fall, yet when you see the professionalism, the attention to detail and the intense focus of the LSU offense, you look to its leader and you listen to the many people around the program who know what's going on: Joe's what's going on...we've been hearing it for a year and a half geauxing on two years now...Joe's the real deal.
Even Joe's father admitted he was shocked by his own son's evolution.
In fact, the name "Joe Burrow" and the words "potential Heisman Winner" weren't uttered in the same sentence from the mouth of any pundit until after the Alabama game.
Before that contest, LSU fans had to hear the nation fawn over Tua Tagovaiola while Joe was cast as the gutsy white dood who's sole purpose was to make it interesting; after Joe dropped a seismic 46 points on Saban's Alabama in Tuscaloosa, we stopped hearing anyone else's name uttered alongside Burrow's when discussing who was "the best player in college football".
The Alabama game is the moment we all knew he'd won the Heisman. He cast out the Wicked Witch of the SEC and took LSU to the promised land all in one magical night in Tuscaloosa. The win stopped a trail of bloody tears that dragged on for eight agonizing seasons...but no more...from our ravenous Coach's warmup speech to the rampant leadership from Joe Burrow infecting every other player on the team, we buried Alabama with a polarizing president looking on and an entire country rooting for LSU and Joe Burrow.
The Tua vs Joe match-up lived up to the hype although we all knew , and the game will live on as yet another masterpiece SEC moment where Joe Burrow took his Eye of The Tiger moment and ran with it.
Following his elite play throughout 2019, it only took Burrow 48 touchdowns, the smashing of SEC records for yards, touchdowns, completion percentage and thoroughly vanquishing five top 10 opponents to finally be considered a favorite; but it appears he also needed to drop 46 on Alabama on the road and then juke out Georgia's best linemen in the SEC title game for the Athens High product to finally make the Heisman his and his alone (in the minds of the pundits)... ...the talking heads may be riding the bandwagon hot and heavy now, but they still haven't been paying attention when they compare Ohio State's pisspoor schedule to LSU's or when they try to claim Oklahoma's offense is more high-octane than ours; it wasn't until our SEC Championship defacing of Georgia for Southern sports-talk heavy Paul Finebaum to finally give his blessing.
The claims have been outrageous from those complicit in their own jealousy...and now every program wants to be the "next LSU"...every college quarterback will believe they may be the "next Joe Burrow"...and that's how fun it is to be a Tigers fan this season.
Whoop it up...get crazy...break out the booze and the Fritos and get weird...get strange this is the only time we'll have Joe Burrow...right now is the time we've got a guy under center that could be facing a deficit of 50 points going into a 2nd half and he'd still be confident....and we should be, too. This is Fantasy Land for LSU fans...the fun and purity of LSU's 2019 offense is now the 8th Wonder of the World.
This is the first time, since Nick Saban left us, where we've had the last laugh! So please Tigers fans, if you're ever going to rub it in Alabama's face, now's the time.
Enjoy every second.
We'll never have this team rolling through that type of schedule in that fashion again, scoring 40+ points in 10 out of their 13 games and 6 games of 50+ points....I still don't think we understand or appreciate how much this team has transcended sports.
But this is about more than football.
Joe's progression, his defiance and his triumph goes beyond athletics: he's become an icon for "the disenfranchised", "the overlooked", "the doubted" and "the under-appreciated", speaking out for his people from Southeastern Ohio as he spoke atop the Heisman stage.
The Heisman speech has become a moment all of us, even non-LSU fans have chosen to watch over and over again: it's not hard to repeat every ray of light in a dark 2019.
In our fake, robotic society we've wrapped ourselves in disingenuous bullshit like self-help bubble wrap; yet somehow, in our cold-hearted / "me-first" world, Joe Burrow's purity, his genuine nature and the young man's soul penetrated through the thick gauze of cynicism and hate our world is usually mired in.
...everyone remembers winners, though as their generation fades and starts to age, so does their glory;
Winners can hang banners aloft the rafters to signify their accomplishments, but legends, no matter what they win, never die:
Legends always stand for more than just a game decided by a ball or accomplishments of tallied numbers, they live on in each new generation and their fire burns brighter long after they've departed this life...
Whether Joe wins another game at LSU or doesn't...whether he hoists the national title we all crave, or doesn't, his most important work as a Tiger may already be complete.
In the two seasons since he arrived in Baton Rouge, Joe Burrow has changed the entire fortunes of a fading national power. His rise has given Coach Ed Orgeron the vindication and respect he's deserved for over 20 years; Burrow has changed the perspective from LSU being just a school for defensive backs and skill position players into a serious quarterbacking school following 2019's metamorphosis...and of course, we're still DBU (suck it, Florida);
His greatness unlocked the potential of LSU's most dangerous weapons, setting up Chase, Jefferson and Edwards-Helaire for promising NFL careers and elevating their burgeoning talents;
Burrow's 2019 blitzkrieg through the SEC has set aggressive play-caller Joe Brady apart as the premier coordinator in college sports, while simultaneously supplying long-time Tigers offensive mind Steve Ensminger with some hard-earned credit for his tireless work on the LSU offense over the years.
While inspiring and supporting those around him, Joe Burrow, man of the people, the saint of LSU, has given so much to so many people in and around the LSU program...but no...Joe's generosity and influence doesn't stop there: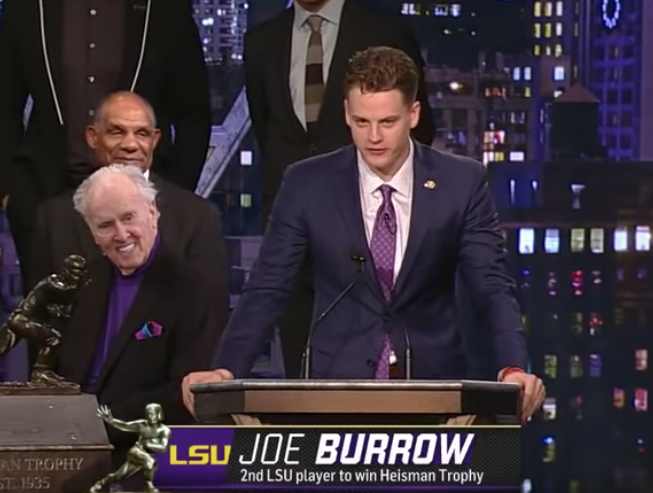 Since his epic, G.O.A.T Saturday night Heisman speech with a touching nod to his hometown and the economic hardships of the Southeastern Ohio area, $200,000 has already been raised directly for the local food banks in that area, right in time for Christmas.
On and off the field, he's carried himself with a maturity, a professionalism and an intensity that openly scoffs at the most daunting of obstacles and says "let's geaux, ride or die!"
It also helps that he's got a cannon for an arm and an undying football IQ that puts the pedal to the metal.
Although this two year adventure is bittersweet and short, what he's done in 2019 will live on in the time capsule of LSU history forever.
The lucky fans who've seen Joe Burrow play for LSU in the flesh will tell their grandkids they were there and all of us following every play from home are just glad to be born in the same lifetime.
To add to this history, many fans in Baton Rouge might never witness another LSU team go unblemished (with such swagger and grace) through a rollercoaster schedule like this again.
The murderer's row LSU has had to pass through to remain undefeated is an achievement most college teams and their fans take for granted. While many power-five schools have to change their pants at halftime when playing the one or two top 10 opponents they might face in an entire schedule, LSU are battling two top 10 teams in the first weeks of every season.
So it was no surprise then that the national love affair with our Tigers began on a Saturday night during a non-conference / top 10 tilt in Austin, Texas.
Where were you on 3rd and 17?
I was standing up, pacing anxiously as I wondered if LSU's defense could hold Texas for the first time all second half...after our upcoming punt of course.
However, we wouldn't see punter Zach Von Rosenberg for the rest of the game (or for much of the season) after Burrow escaped out of a collapsing pocket, rolled to his left and launched one of the most remarkable passes you'll ever see through double coverage and into the hands of Ja'Marr Chase for the 1st down....
...But in a play that's as emblematic of the unstoppable 2019 LSU offense as any, Chase didn't stop there: Joe's pass was so good it teased and baited the over-aggressive Texas secondary into over-committing and the Biletnikoff Award winner burst through and raced down the sidelines to put the game away 45-31 with under 3 minutes remaining.
It was only the beginning...
...you didn't need to see Matthew McConaughey's one word / four-letter sideline response immediately following the touchdown to realize what we'd just seen was the start of something profound.
We've seen it all from Joe Burrow...well, we got close to seeing it all, but luckily he gave up on that run against Auburn .
He smoothly and quickly became the coolest guy in sports as LSU's offense became something unthinkably fast thanks to the spread attack of Joe Brady, Steve Ensminger and the never-ending triple threat of Ja'Marr Chase (over the top), Justin Jefferson (over the middle or outside) and the extremely explosive Clyde Edwards-Helaire in the ground and pound or in the short passing game...imagine all of those options behind an offensive line (Traore, Charles, Deculus, Cushenberry III) that can buy you an average of 7-9 seconds against the #1 ranked defense in the country... and then there's the conductor at the helm: a steady, experienced warrior who's sick of messing around...he wants the big one and he's done joking...
...all of these ingredients are a gumbo that's even too spicy for Nick Saban, Tom Herman, Gus Malzahn and Kirby Smart....Lincoln Riley, want some? Ryan Day? Dabo?? Where's my boi, Dabo??
In 2019, we saw the first college football team that could score with such ferocity, pace and aggressiveness (from their play-calling to the finesse in which they executed said plays) that it seemed as if the players were betting on whether they could finish off the game by the 3rd quarter.
Through this steadfast domination, Burrow continues his gift-giving: because of their destruction of so many teams, backups like quarterback Myles Brennan and running back Davis-Price saw a lot of the field.
Thanks to his explosive 2019 and high quality 2018, in only two seasons, Joe has set nearly every Tigers single-season quarterbacking record, he made Nick Saban go crazy and he's only 5 touchdowns away from passing Tommy Hodson as the all-time touchdown thrower in LSU history.....and Tommy Hodson was a four-year starter in the late 80s and a damn good Tiger who still holds the all-time LSU passing yards-record by 1,506 yards (don't count Joe outta this one yet, buddy!)
The simple truth: no matter the outcome in the upcoming College Football Playoff, Jeaux Burreaux will go down as the greatest player in the illustrious 126 year history of Louisiana State University.
And it almost never happened...
IN THE BEGINNING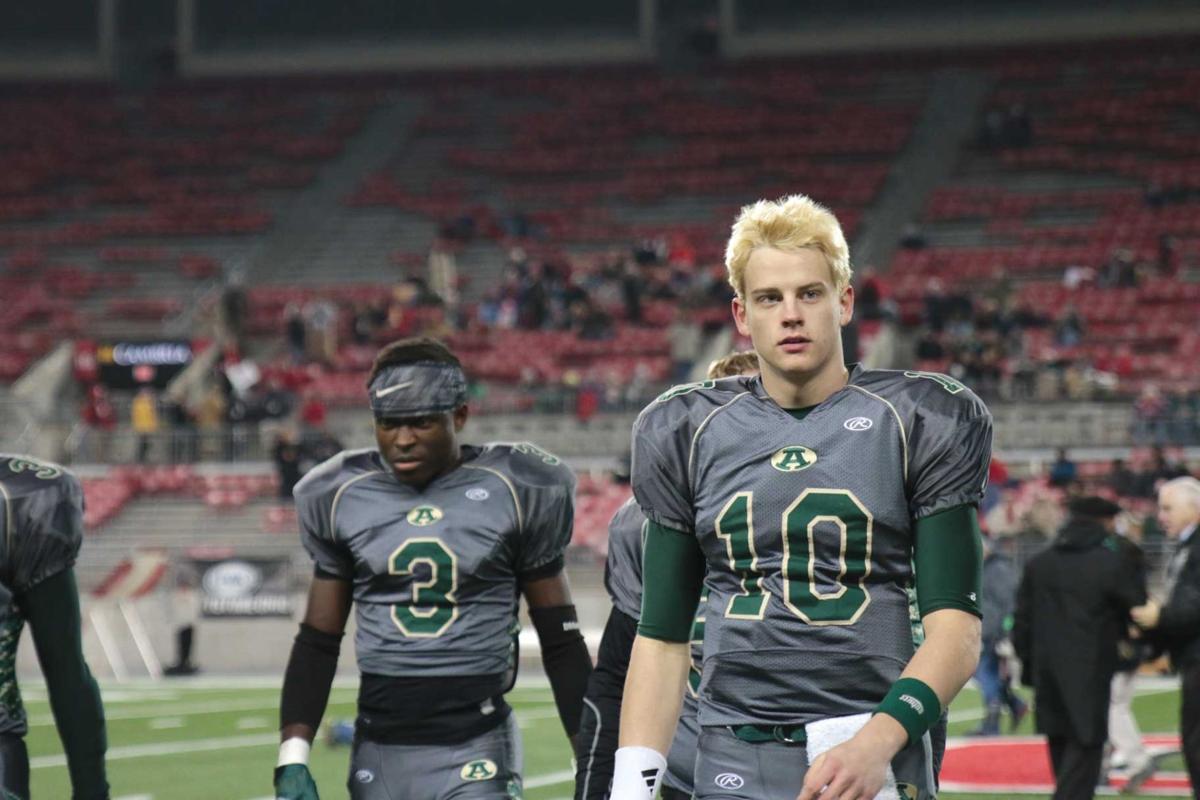 Burrow was a rambunctious, headstrong talent at Athens high school, setting state high school records and impressing everyone who saw him...that was except his father (who couldn't make the games) and every college scout in the country barring two.
Joe's initial dream was to carry on the Burrow legacy at Nebraska, the school his father and brothers played for, but after Scott Frost told Joe's father his son "wasn't good enough", Nebraska was forgotten.
The only firm offers were from the University of Ohio where his father coached, which was "a pity offer", as Joe described, but randomly there was a second interest coming from Urban Meyer, head coach of Ohio State at the time.
The former Florida, Bowling Green and Utah national champion became interested in the young gunslinger after his offensive assistant Tom Herman (current Texas coach) called him after "seeing something special in him," and said, "I've got your next Alex Smith."
OSU assistant coordinator and current Ohio State coach Ryan Day was equally impressed despite Joe's raw mechanics and wanted a wild card in their quarterback room.
"There were these intangibles that Joe had that made you pause and think for a long time...the kid kept me up a lot," Meyer has said in the wake of Burrow's 2019 success.
Joe accepted Ohio State's offer in 2015 and joined their stacked QB room.
Meyer recruited a group that were four-men deep with Grade A pedigree, athleticism and pre-ordained hype in such abundance it was hard for Burrow to stand out when Meyer already had his favorites. There was National Championship-winning freshman Cardale Jones returning to Columbus for his red-shirt junior year, there was future starter Braxton Miller, another future starter J.T Barrett and 4th on the totem pole...Jim Halpert-looking Joe Burrow.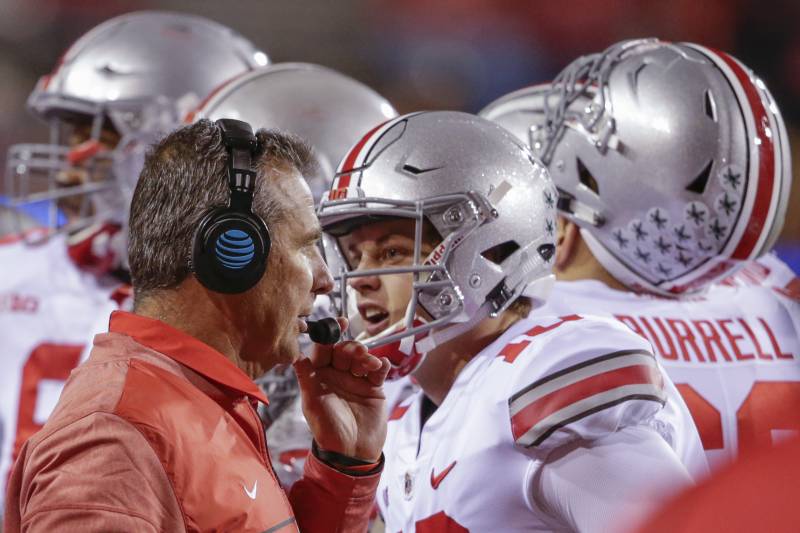 Meyer wasn't too impressed with Joe, the man who was supposed to be able to spot a Heisman instead favored more "athletic" quarterbacks as he put it, while once telling Joe he "threw like a girl".
For two seasons Joe Burrow sat and waited...watching...wondering when his chance would come. Even his father continued coaching at the University of Ohio, knowing his son couldn't get a game.
Though he was initially promised the starting job for the 2017 season, it became evident the Buckeyes were going with Dwayne Haskins. Yet again, Joe Burrow, 2019 Heisman winner, sat another year of eligibility and the Ohio guy started thinking his chances at a career were going down the drain.
During his Heisman speech, Joe emotionally admitted that around the time of his transfer, he "wasn't even sure he could still play". Burrow was frustrated, felt betrayed by the OSU staff (though he'd never admit it), but was still torn between staying at Ohio State or leaving for the great unknown.
After much thought, he chose the latter.
Burrow wasn't content accepting garbage duty behind Haskins, coming on late in 4th quarters against Indiana or Minnesota for "pride" would never be enough for a dude as ambitious as Joe. And with time now running out on his college career and NFL dream, Burrow knew he had to transfer....but where?
There weren't many schools looking at this kid...even Nebraska's desperate Scott Frost ignored the familial / professional ties between the Burrows and the Cornhuskers, incredibly passing on Burrow for a 2nd time...a decision that'll haunt Frost forever.
Nebraska's tomfoolery opened the door for Cincinnati, a school closer to home and one that promised Joe the coveted starting job. It was said they were in pole position at that moment for his signature.
Cincy were led by former Ohio State interim coach Luke Fickell, a guy Joe Burrow was comfortable playing for, though the quarterback only went for one unofficial visit. Tip your hats off to them, Cincy showed significant interest, trying to entice Burrow with the idea of staying local...after all, Joe had never lived anywhere other than Ohio.
Meanwhile down in Baton Rouge, Coach O scanned the practice field and saw the quarterbacks at his disposal and gave a foreboding statement to all of college football..as well as every QB on the Tigers depth chart:
"....we'll be looking into any transfer quarterbacks to add depth," he said to a local Tigers source.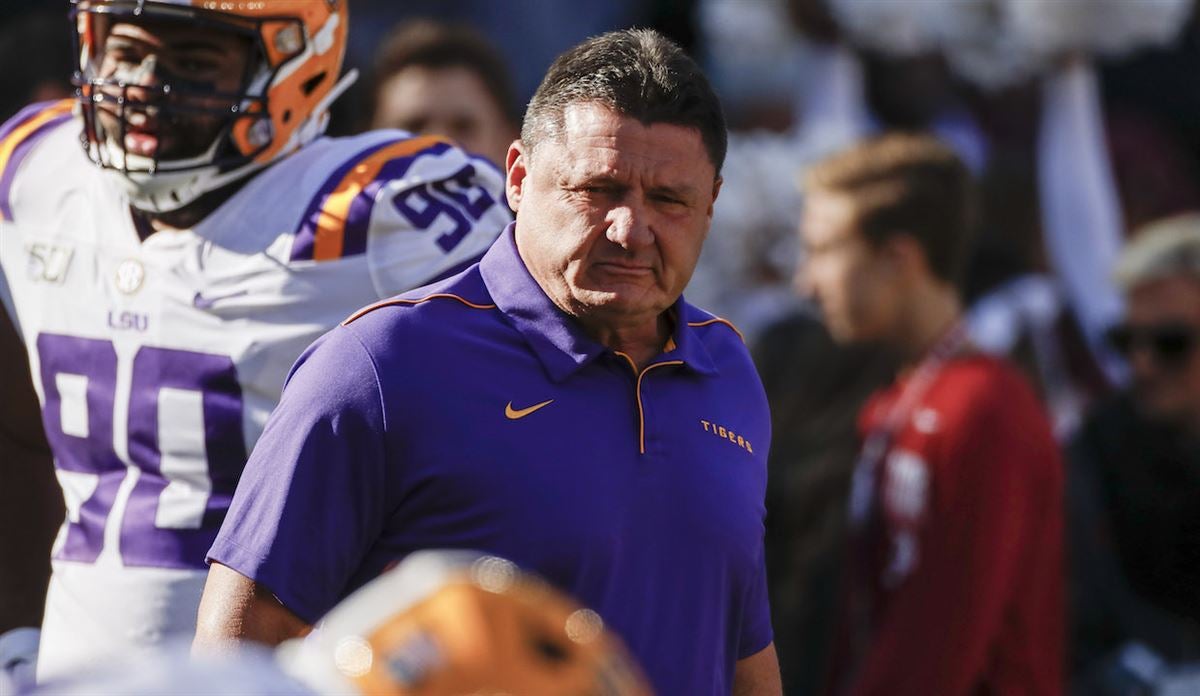 Whispers abounded that he was going after "an Ohio State guy hard" and that Coach Orgeron was very invested in his recruitment.
Taking stern advice from his brother, Burrow saw the opportunity waiting for him at LSU and ran with it:
He'd always wanted to play in the SEC and so when Coach Orgeron obtained permission to speak with him, plans were arranged for a weekend family trip down to Baton Rouge to tour the campus and facilities, a conversation via Joe's brother Dan (Joe hates phones as we've found out).
Arriving with Joe for the three day trip to Baton Rouge was his brother Dan, his father Jimmy Burrow and his mother Robin, all excited about the prospects of Joe playing in the SEC.
Waiting for him were Coach Orgeron, Offensive Coordinator Steve Ensminger, a bunch of game film of the offenses they'd be running and large meals of Cajun seafood and crawfish, hoping their pitch would be enough to capture the Ohio exile.
The initial film study session was supposed to go for two hours, but after Joe and his father struck up a warm conversation with Steve Ensminger and Coach O about offensive schemes, the meeting extended to four.
"He obviously saw that there wasn't an established quarterback and he took that opportunity," Coach O said in a Sports Illustrated article.
On May 20th, 2018, Joe Burrow signed on the dotted line to play at LSU for his final two seasons of collegiate eligibility...coincidentally (we think not), this was the same day the last LSU Heisman Trophy nominee and winner / icon Billy Cannon passed away....
A torch had been passed....
BURROW: 1.0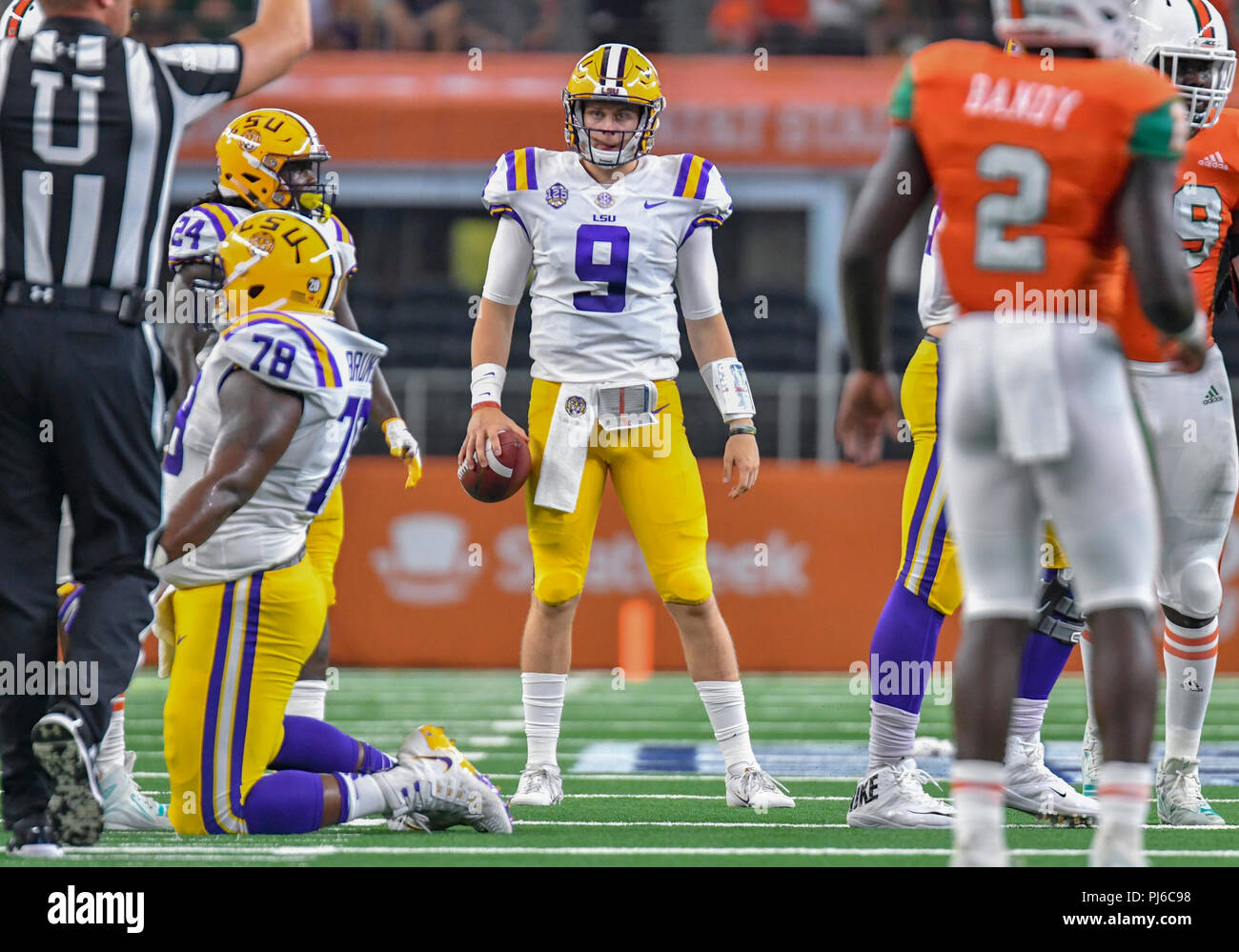 2018 was an intriguing season for the Bayou Bengals, with The Joe Burrow Era at LSU beginning with the Tigers as the final ranked team in the top 25 going into a Week 1 match up against #8 Miami, a game played out in the apocalyptic confines of Cowboys Stadium.
From the outset of the Burrow Era, no primetime pundit or talk show host thought anything of LSU, in fact Tigers fans had to listen to chants of "TROY!" everywhere they went. The Vegas odds had LSU winning 6-7 games in 2018, and it was obvious there was no belief coming from the heavies at the AP and CFP.
As always, we played a hard-nose 2018 schedule, hand-selected by Coach O to test our guys and bring us back to national prominence...which gradually happened...beginning with a smackdown of Coach O's old team.
They administered an ass-kicking upon #8 Miami on ABC, Burrow making his rusty debut before a national television audience. In his first game as a Tiger, Joe threw a pedestrian 11 completions for 140 yards, but looked like a leader with poise. The 33-17 defeat of Miami was highlighted by a feverish, demonstrative Joe helping LSU get out of the traps quickly to a 27-3 lead by halftime, extended to 33-3 by the 3rd. He fought to prove he belonged, but he was already our guy.
Next came a big test on the road against #7 Auburn, a nail-biter in which Burrow courageously led us to a one point win, the Bayou Bengals making a stunning 2-0 start to the season. Though we'd later suffer a bad loss to #22 Florida after attaining a #5 ranking, we'd rebound the next weekend with the moment Joe Burrow took flight.
While watching him lead our #13 LSU Tigers to an emotional 36-16 upset over #2 Georgia, I had a great feeling about Burrow: finally we had a quarterback
with some moxy at LSU...finally a quarterback with the cajones to throw the ball into coverage...finally we had a stone cold boss who was willing and able to complete the tight throws that guys like Brandon Harris, Danny Etling, Jarrett Lee, Matt Mauck or Jordan Jefferson wouldn't even attempt.
Although we'd have to endure yet another primetime shutout to #1 Alabama (while ranked 3rd in the country), it was the 70+ point score-a-thon against A&M that scarred the players most.
The humiliating loss forced our future-NFL stars on defense (Grant Delpit, Patrick Queen, Jacoby Stevens, Michael Divinity Jr., Kristian Fulton) to look in the mirror, realize the bigger picture and atone for yet another promising season in the Bayou that disintegrated before our eyes...though it took 7 painful overtimes.
Still, there were signs of the magic that was to transpire this season during those last tattered moments of 2018:
We scored 40 points in three straight games for the first time since the opening trio of gimme-games back in the 2012 season; Burrow, his receivers Chase, Marshall, Jefferson and running back Clyde Edwards-Helaire (who was hardly used at the beginning of the season) looked unstoppable, meanwhile Joe was slinging the ball around at a higher volume, velocity, percentage and touchdown rate than ever before...a sleeping giant had awoken.

BURROW INFINITY (& BEYOND)
I didn't know exactly what we'd see in his senior season: either the 40-burger the offense dropped in the Fiesta Bowl against UCF or the near-unforgivable shutout at the hands of Bama in Death Valley? Most opted to bet on somewhere in between those two extremes and who could forgive them, LSU were a terribly unlucky team at the time, striking out in everything from injuries to last second losses or erroneous targeting calls...although how breathtaking it would become would prove impossible to quantify.
We knew the team was very very very good, though incomplete...but most importantly, the team itself understood their true potential and worked hard to unleash it.
Burrow took a walloping in the backfield throughout 2018 and the offensive line knew they needed work: Joe was going to get killed if they continued the loose protection of the last year.
With Joe already a college graduate from his time at Ohio State, Burrow had the time and the responsibility to become the center of the non-stop professionalism and will to win our LSU players are renowned for.
Their search for collective improvement was so devout and their work ethic so intense it impressed many opposition coaches, media members and attracted new fans across the board.
Burrow and Austin Deculus, Lloyd Cushenberry III, Badara Traore and Shadiq Charles worked on protections and hard counts; Joe and his receivers ran routes day and night to work on their timing; Burrow and Edwards-Helaire worked on handoffs, play-actions etc in the back-field...it took hard work throughout the offseason to build to the triumph of this 2019 juggernaut.
It was around this time Coach O compared Burrow's obsession with improvement and leadership to that of Tom Brady, ruffling the feathers of other SEC schools with promising quarterbacks.
But our Coach didn't care, he knew what kinda talent his team possessed and the country would find out soon enough.
To further jettison Burrow to Brady-esque heights, Coach Orgeron wanted to couple old school offensive coordinator Steve Ensminger alongside "another Brady": New Orleans Saints quarterbacks coach Joe Brady.
Brady's youth and aggression gelled nicely with Ensminger's all-encompassing experience and together the two provided the ultimate mix of youth and age to supply Joe with the best chance to succeed in this, his final collegiate season at LSU.
There were so many signs of encouragement and hope geauxing into 2019....though could any of us have dreamed of domination on such a scale as this?
Could one have been so full of megalomania, egomania and false dawn insecurity to seriously believe LSU could do what they've done?
Some of us asked the question: well...why the hell not?
And now, a guy who hoists the Heisman Trophy, who's now broken the all time SEC records for TDs, completion percentage and yards in a season, while his LSU offense has scored 46.3 points per game, defeated five top 10 schools on their way to an SEC title and will have to get through two more top 5 teams if they're to win it all, which would be yet another NCAA record.
...After all that you'd think Joe Burrow has lived out his wildest college football wet dreams and will go riding off into the sunset with both barrels smoking, no matter what the results of the upcoming College Football Playoff....right??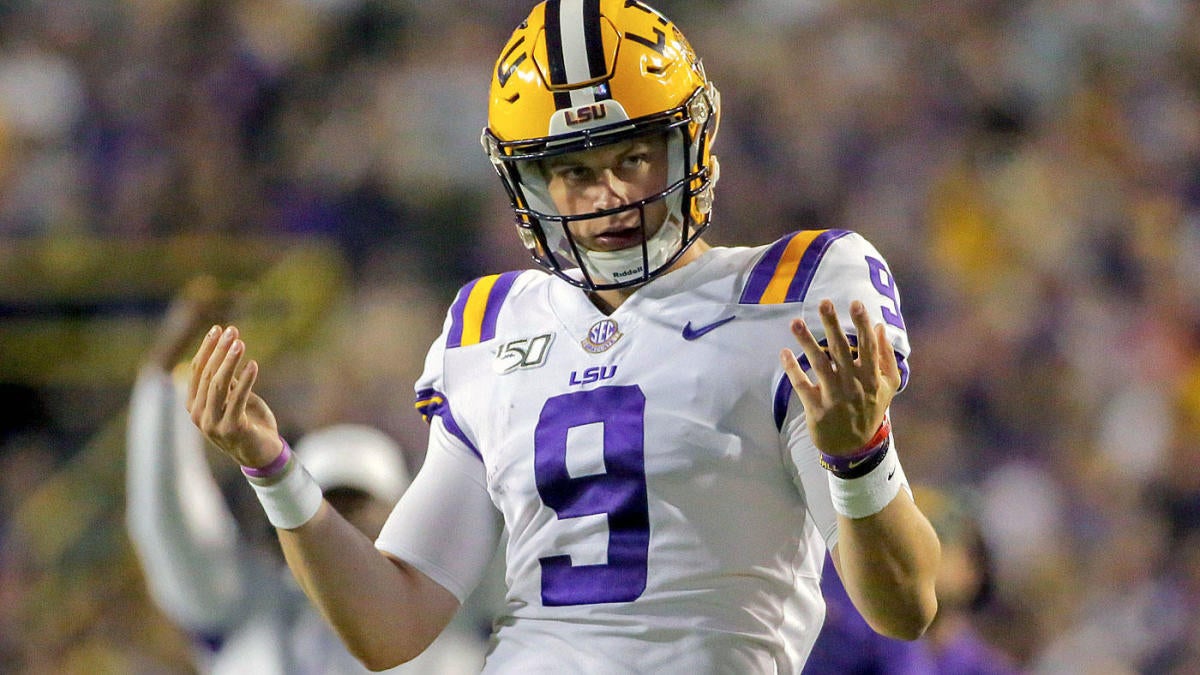 Hell no, Joe Burrow still has scores to settle:
Athens High lost the state championship game in Joe's 2014 senior season after a record-breaking offensive year on a team of destiny that went unfulfilled.....sound faintly ominous????
Joe doesn't feel he's done until he's won a national championship this season to atone...to finish...because Joe Burrow never forgets.
And we'll never forget him.
What this team has done on the field has made them historic...
Their swagger and mentality has made them legendary...
And what they should soon accomplish could seal their legacy as the greatest college football team in modern times...
But they're not finished.
Not yet...

by LONN PHILLIPS SULLIVAN
uninterruptedcrossroadsinc