2019 PEACH BOWL CFP SEMIFINAL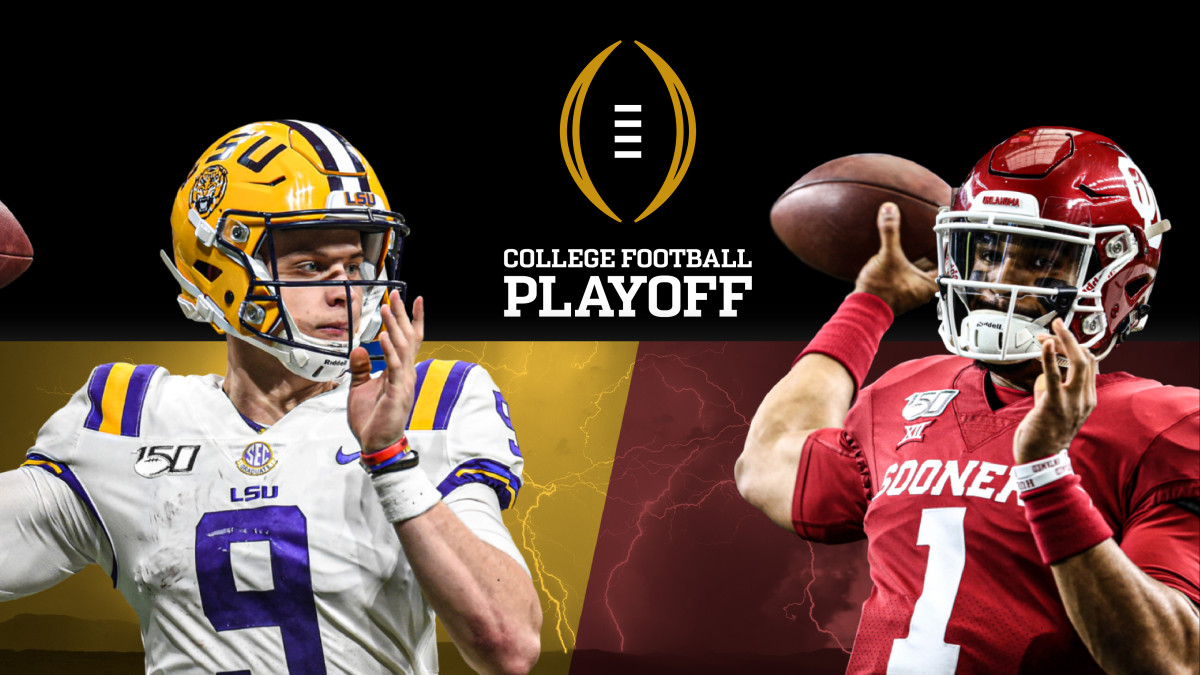 Every sports journalist, blogger or gambling fiend who rushed out their analysis and predictions for the upcoming College Football Playoff sent them out waaaaay too soon.
For such self-respecting scribes to forget about the annual barrage of suspensions and injuries that always arrive during the two week holiday layoff is utterly ridiculous (considering these shenanigans occur annually and frequently play a role in the CFP outcome).
And there's no better example than the upcoming 2019 Peach Bowl between SEC champions LSU and Big 12 winners Oklahoma:
This last week's news about the Oklahoma suspensions and the crucial LSU injury arrived just as the Tigers' crown was already being sized: it was as if the college football gawds saw the pre-game spread in LSU's favor and said:
"To hell with thaaaat, let's have some fun...which LSU player (who isn't Joe Burrow) should we hurt?"
The injury to Clyde Edwards-Helaire isn't a hamstring tear, it's one of the college football gawds getting even after a year where everything went the Tigers way by taking a croquet mallet to the back of #22's leg: non contact injury, my ass....
Thanks to these masochistic college football gawds, LSU vs Oklahoma is riddled with sudden changes and off-the-field dramatics that will definitely make this one a lot more unpredictable.
In most years, one of the CFP's semi-final games is a non-competitive dumpster fire in which one of the Big 10 or Big 12 teams are on the receiving end of an emasculating defeat. We feel this year will feature two high quality games with this SEC v Big 12 match up in Atlanta packing a mighty punch in the entertainment factor.
The 2019 Peach Bowl pits #1 LSU against #4 Oklahoma, a pair of teams that possess the two most prolific offenses in the country, the best duo of young offensive minds anywhere (Joe Brady and Lincoln Riley), two brilliant transfer quarterbacks (one a Heisman winner flirting with destiny, the other hungry for validity) and two underrated defenses.
Coming into Atlanta's Mercedes Benz Stadium, Oklahoma find themselves hunting for respect as Coach O's Bayou Bengals fight for a place in the history books.
And while many are heavily focused on Clemson vs Ohio State being the real marquee match up, we feel LSU v Oklahoma has every chance to be just as intense, as dramatic and possibly even more entertaining than the Fiesta Bowl.
We go deep inside this tantalizing match up, covering everything from the best running back in the country you've never heard of, Oklahoma's revamped defense and Jalen Hurts' undefeated record against LSU.
JOIN US AND TELL US YOUR THOUGHTS & PREDICTIONS.
LET'S GEAUX!!!!
WHO'S IN / WHO'S OUT
OKLAHOMA
We begin with the millionth consecutive bowl season in a row where at least a few crucial Sooners will be missing for the postseason, none of the three more important than all-world defensive end Ronnie Perkins.
With Perkins leading a solid and much-improved defensive front with his NFL-ready size, agility in the trenches and his Chase Young-esque swim move (all you D-linemen know what I mean) Oklahoma's defense has been much improved in 2019.
Thanks to new defensive coordinator Alex Grinch's philosophies and a versatile athlete such as Ronnie Perkins clogging the front, Lincoln Riley's group are not only more adept at keeping scores lower, the Oklahoma defense is finally capable of tilting the balance in the Sooners' favor.
On many occasions this season, Ronnie made a big time play that changed the entire momentum of a game, no contribution more imperative or timely than his 3 sacks in the Sooners' epic comeback win vs Baylor in November.
But instead of shutting down Joe Burrow on December 28th, Oklahoma's best defensive player will be watching from a couch.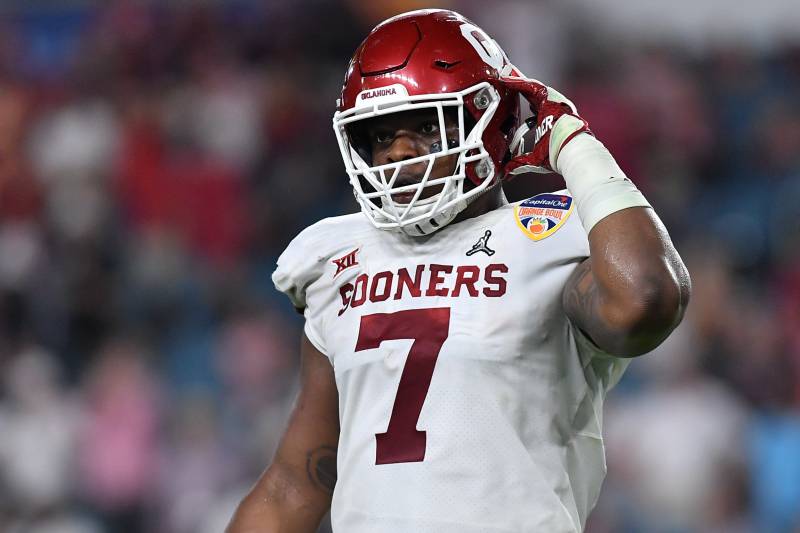 The celebrated edge rusher's suspension is a devastating blow for Lincoln Riley and a huge headache for defensive coordinator Alex Grinch to address, specifically when going toe to toe against a mastermind such as Joe Burrow.
The repeated chaos Perkins creates in a backfield and the extra pressure he would've provided a weakened Oklahoma secondary would've been priceless against LSU's rampaging offense.
Oklahoma loses two more players on the offensive side of the ball, too: Rhamondre Stevenson's suspension (for the same drug test violations as Perkins) will hamper the depth Lincoln Riley has available in his backfield, putting the entire rushing load on Kennedy Brooks or Jalen Hurts . And in the passing game it's much the same: Hurts loses a target in suspended receiver Trajen Bridges, another MIA that saddles even more of the burden on the shoulders of star OU receiver Ceedee Lamb.
LSU
For the #1 LSU Tigers the distractions have been more subtle, although still worrying for those beholden to states of fiendish disarray like myself:
There was the bizarre 48 hour saga of UNLV's on/off pursuit of defensive coordinator Dave Aranda, while the constant awards show accolades, interviews and ass-kissing from the entire world over the last month could cause the Tigers to lose their edge at the worst time.
The biggest disruption in LSU's preparations (and potentially their place in a national championship game) hasn't been any statues, ego-tripping or job offers: it was the non-contact "hamstring" injury Clyde Edwards-Helaire suffered in practice that has every Tigers fan freaking out.
Edwards-Helaire is simply the best running back in college football for the obvious fact the speedster does more than run the ball:
Clyde has a near telepathic connection with QB Joe Burrow, always making himself available as a passing outlet when Joe's in trouble; #22 makes the first guy miss every time, he's built for the moment, he's also been the best pass blocker of any SEC running back and forget about catching the guy, most of the time the man can't even be tackled...in fact Alabama are reportedly still trying to tackle Edwards-Helaire.
Before the season began, there were three players I felt were mandatory for an LSU national championship: one has a Heisman, one has a Thorpe Award and the other is Edwards-Helaire.
When #22 is available, the pace, tempo, control and expansion in Joe Brady's schemes become so fast it's actually frightening when you compare 2019 LSU offense to Cam Cameron or Matt Canada's travesties of yesteryear.
Yet the nature of their prize running back's injury creates a variety of issues for any LSU player, coach or fan to chew on over the next two games.
With a possible national championship game on January 13th, should LSU risk #22 against Oklahoma or hold him back in hopes he'll be at 100% for the title game?
Either Coach O is taking a huge risk by leaving his best weapon and most influential player on the bench or he's taking a massive gamble playing him (perhaps in limited / decoy fashion).
Thanks to Edwards-Helaire's injury, there's a lot more on the line for the Tigers in this game than many believe.
Right now, OU's Riley knows who he can count on going into the game; however on the other sideline, Coach O must manage his personnel play by play.
The information Brent Bankston's medical staff gathers from Clyde's hamstring and how Tigers play-caller Joe Brady solves #22's potential grounding is as important to LSU winning a national title as keeping Joe Burrow upright (next chapter, we'll discuss who can replace Clyde Edwards-Helaire if he doesn't make it on the field).
On the defensive side of the ball, stud senior Michael Divinity Jr is still being held back until the national championship game for reasons unknown, though the influential defensive end has been seen in uniform coaching up his teammates on the sidelines ever since he left the team for "personal reasons".
Huge credit must be given to Coach O and his staff for still keeping the Divinity story under wraps after two and a half months in our 24/7 news cycle society, especially in the run-up to the Alabama game. Big kudos have to be sent to Divinity Jr as well for staying active within the team and cheering them on.
It's hard to sift through the absences and the shoulda-woulda-couldas and tell you all exactly how the 2019 Peach Bowl is gonna go down, but the classic saying about winning championships being "all about who can last a marathon" is a cliche for a reason: because it's true.
Depth, whether it be psychological or actual physical bodies, will win this battle over both teams' absences...
...so...since Oklahoma's pass rush won't be the same without Perkins and there isn't anyone on the OU D-line who can replicate his disruption, the absences were always going to hurt the Sooners more.
Since LSU's Edwards-Helaire hasn't been officially ruled out of the game just yet and with their additional options in the backfield, it'd be a major disappointment for this special squad to bow out before the title game because of one injury.
Let it be known: with the quality, presence and heart of Joe Burrow and the plethora of absolute NFL-ready talent slathered all over Ensminger/Brady's offense, Coach O's team possesses far more dimension and versatility in the personnel department to overcome any absences.
OFFENSIVE SHOOTOUT?
OR
UNDERRATED DEFENSES?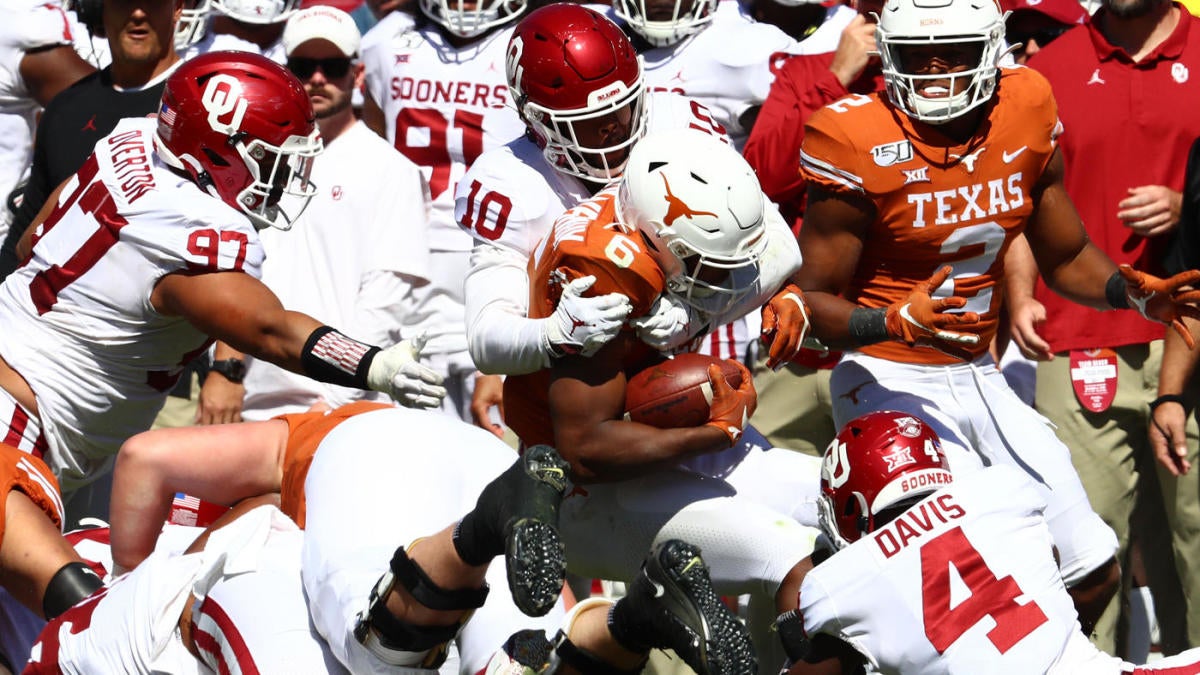 Both schools are nearly level in as many statistical categories (on each side of the ball) as could be possible, though it must be said the level of defensive competition in the SEC far exceeds the physicality, speed and prowess of Big 12 defenses, specifically when it comes to linebacking and the secondary.
Yes, in the history of college football, conference has mattered in these match ups, although recent history in the CFP tells us that style points in a conference schedule mean very little until this season's seeding:
We've seen underdog Clemson beat Alabama twice, including an absolute stomping last year after playing a powder-puff schedule while Saban's team had a far tougher route to the playoff; in other years, Lincoln Riley's own Sooners battled Georgia to the death at the Rose Bowl and in the first CFP semifinal ever, Urban Meyer's Ohio State outclassed Saban's Crimson Tide in an epic masterpiece.
In the 2019 Peach Bowl, we will see the two NASCAR-on-meth offenses affecting the defensive side of the game like never before...just as dominoes tip in a line: this will be a chess match of cause and effect, where offense and defense become one and the same.
Despite the 13.5 pre-game spread in favor of LSU, the high-flying Jalen Hurts-led offense posted 43 points per game and averages a Division I best 7.8 yards per play (LSU is 3rd), leading many to believe the Sooners could feasibly keep up with LSU.
But as much as the Sooners need to "keep up" with LSU's rollercoaster offense, they're defense must also "shut down" the LSU passing attack over the middle or they have no chance.
Although the Sooners defense has come a long way in one season:
In Norman, Lincoln Riley made a fantastic hire when he grabbed defensive coordinator Alex Grinch to repair the mentality and confidence of the porous OU defense and since his arrival, Grinch has quickly developed a much-improved defense.
Grinch's group is allowing 25.4 points per game compared to last year's 33.3, they're ranked 32nd in the nation in stopping the run (allowing 5.5 yards per play), and surprising us all by ranking 9th on 3rd down.
Without Perkins, can their defense keep the game tight?
Can their secondary make a few plays in 2nd and long situations and force difficult 3rd down attempts or maybe even grab a turnover and frustrate Joe Burrow?
Could Alex Grinch be the real "Grinch Who Stole LSU's Christmas"???
Anything is possible with great players and coaches, yet we feel the Oklahoma offense has an equally critical role to play in keeping the Heisman winner on the sidelines.
With their skill freaks like Ceedee Lamb out wide, Kennedy Brooks in the backfield (as well as Hurts' running ability and sharper accuracy), Oklahoma deserve the respect many (especially Skip Bayless) have given them...however, to say LSU's historically difficult path to their first ever CFP appearance means nothing when evaluating this game would be a disastrous folly.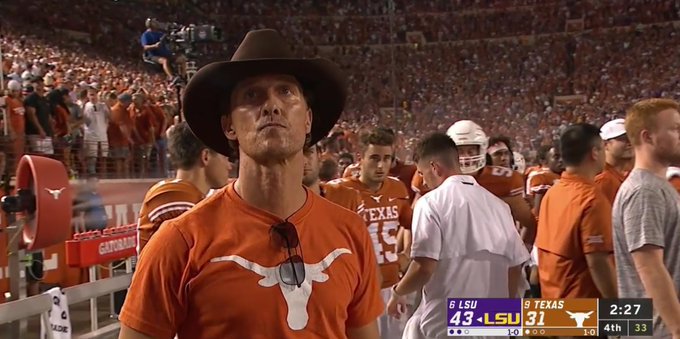 Matthew remembers 3rd & 17
The manner in which this historic, irresistible LSU team traversed through the SEC, the way they torched McConaughey's Texas in defiant swagger, finished off Florida in style and controlled Auburn will be a benchmark for SEC greatness for a long time;
But it was during the Game of The Century Pt. II against Alabama where this team made their dream a reality, vanquishing the biggest monkey on anyone's back since Brendan Fraser did George Of The Jungle.
Coach O's Tigers rode the unstoppable Clyde Edwards-Helaire to victory against Bama, the running back executing innumerable spin moves with extreme prejudice while weaving under, through, and (at the goal-line) over Bama in a masterpiece worthy of that infamous "Game of the Century" tag.
In front of the entire country, LSU humbled and embarrassed Saban's 'Bama in
Tuscaloosa, forcing a litany of ridiculous errors, penalties, missed tackles and busted coverages while driving Saban out of his mind.
But if all of those highly entertaining, unbelievably epic and legendarily confident performances still weren't enough to impress the CFP committee or you dear readers, the rampant LSU journey to their first College Football Playoff didn't stop after the Alabama game: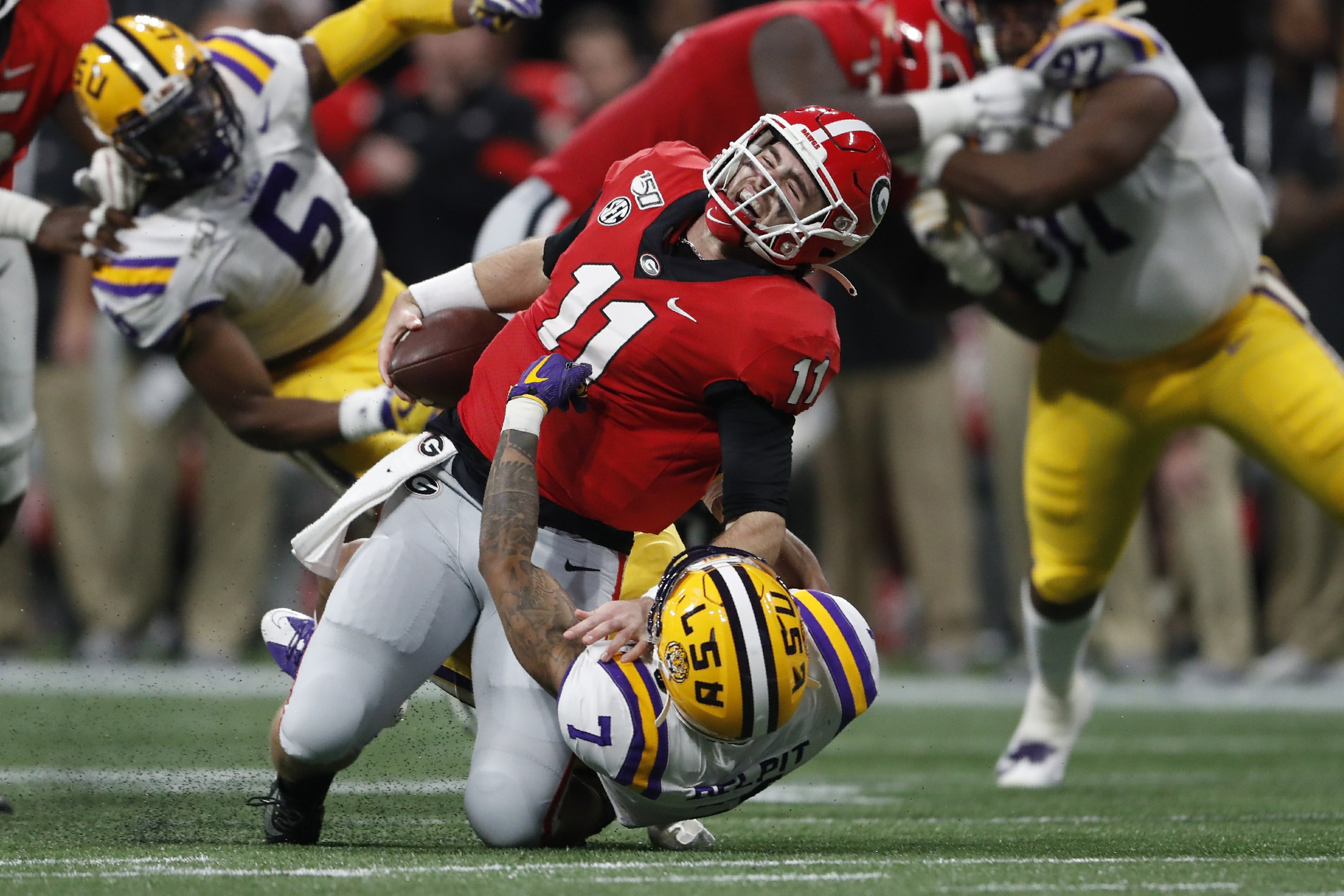 Burrow and company dropped 50 points on Jimbo Fisher's gutless Texas A&M while shutting down Kellen Mond, destroyed Arkansas so badly the starters left after the 3rd quarter, and to wrap up their first conference title since 2011, Orgeron's soldiers stormed into Atlanta as if they were Sherman's army and belittled Georgia for the SEC title....
...oh and Joe Burrow became the first LSU player to win (or even be nominated) for the Heisman since 1958, an award he collected for shattering every SEC record imaginable....and yet in only a pair of seasons, he still might break Tigers legend Tommy Hodson's four-year span of 69 touchdowns (Burrow only needs 5 TDs & 1,506 yards to pass Hodson for both TDs and yards...don't count him out ).
More than Joe dropping dimes, more than jamming Ja'Marr Chase and Justin Jefferson at the line of scrimmage, it'll be the tempo of this LSU offense and their speed in space that Grinch's defense will have the most trouble dealing with...there's simply no way to simulate the pure talent and pace of Joe Brady and Steve Ensminger's boys...and because of those intangibles, Oklahoma are going to need help in getting off the field...any way they can.
The Sooners cannot allow LSU to start off with a quick two score lead to begin this game....
...This likely scenario would kill any confidence Riley has in his defense, making the OU coach gamble early and often on 4th down opportunities: a do or die proposition against Joe Burrow's #1 ranked red zone offense.
Equally worrisome for any Sooner: an early lead plays right into the hands of LSU's highly sought after (and highly paid) defensive coordinator Dave Aranda and his blitz-heavy, hell bent for leather defensive philosophy.
When playing with a lead, this team seems untouchable, proving capable of answering the call against stormy comebacks from Alabama, Florida, Texas and Auburn.
Every time they've needed a spark in 2019, the Tigers'
coaching staff and players have made the right decisions and the big plays in all the right moments, grinding out of every sticky situation this season.
A prime example of their resolve? The second half of the Alabama and Florida games:
In a rough and tumble battle against the #9-ranked Florida Gators, our freshman prodigy Derek Stingley Jr was repeatedly burned on a few touchdowns against Florida. Backup quarterback Kyle Trask led the Gators to 21 first half points, including big plays on the freshman.
However things would be much different in the second half: Stingley came alive and Muschamp's Blue Pooh were held to a lone score in the final two quarters as Stingley atoned for his earlier mishaps, grabbing an interception and a crucial deflection in the end zone.
Which perfectly segues into LSU's defense vs Oklahoma's full throttle attack.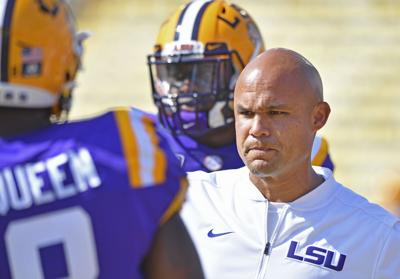 This LSU defense can recover, they're adaptable and
can withstand the pressure, but will they avoid the yards after catch that'll help the Sooners stay on the field?
This veteran group led by Grant Delpit, Jacoby Stevens, K'Lavon Chaisson, Michael Divinity Jr, and Rashard Lawrence have shown a terrific ability to create turnovers, tackles for loss or sacks in critical moments during every type of game: from shootouts, shutouts and crapshoots, this defense has held its own end of the bargain in 2019:
This underrated unit creates a multitude of turnovers and uncomfortable situations for every opponent they've faced this season, producing moments of magic and strength while dealing with a ridiculous amount of reps and injuries.
Although this group contains NFL talent and have vastly improved as a collective, we'd be remiss to say they haven't struggled: in fact, sometimes they were one of the most porous Tigers defenses I'd seen in a long time.
LSU's defense hasn't been horrible, they weren't god-awful throughout the season and they didn't hurt their team overall, but what they were was injured and sloppy.
Oklahoma's offensive minds Lincoln Riley and Bill Bedenbaugh will have a lot of game film to sift through that'll undoubtedly expose Dave Aranda's defense missing tackles in the secondary, taking bad angles on outside runs, and displaying an undisciplined gap control which has allowed many big plays (once the opponent reached the second level).
Much like any defense, this Tigers unit hates the tempo offenses, but they're in better conditioning to deal with Oklahoma's pace than any other group: their own high-octane offense has added an extra five or ten drives to the defense's workload per game and they've come out the other end healthier and playing better than they have all year....perhaps because of it.
Really, the only team that's been able to gas LSU this season has been....LSU.
Since many talking heads and pundits have crucified Aranda's defense in the name of statistical analysis, context must finally be given to those stats:
I've never seen an offense score so fast that they tire their own defense out, but the two Joes (Brady and Burrow) continually pushed their injury-hampered unit back out on the field in such random quick bursts that their big men in the trenches hardly had time to catch their breath.
This high tempo Ensminger/Brady-led offense yielded a historic amount of points, yet it also helped wear their own defense down over the course of the season...and it's during these breathless transitions from offense to defense where I feel Oklahoma can have success against LSU.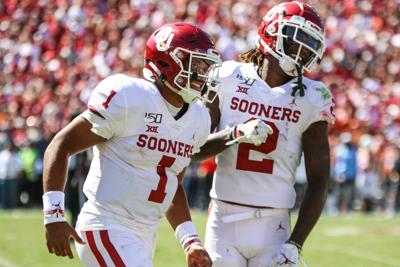 Much like Orgeron's Tigers, Riley's Sooners are speed freaks and touchdown merchants: quarterback Jalen Hurts can expose middle linebacker Jacob Phillips, a high-volume tackler who has an awful time figuring out whether he's in coverage or plugging gaps in the trenches.
Hurts could also isolate Delpit or Jacoby Stevens in the secondary by beckoning one of them up to the line to stuff the run, then attack the vacated space deep with a play-action pass.
It's been well documented that LSU is susceptible to giving up massive chunks of yards, though most of those plays took place when the Tigers defense were either missing multiple key guys, the starters were on the bench in a blow-out or all of these guys were playing through the pain barrier and performing at half capacity: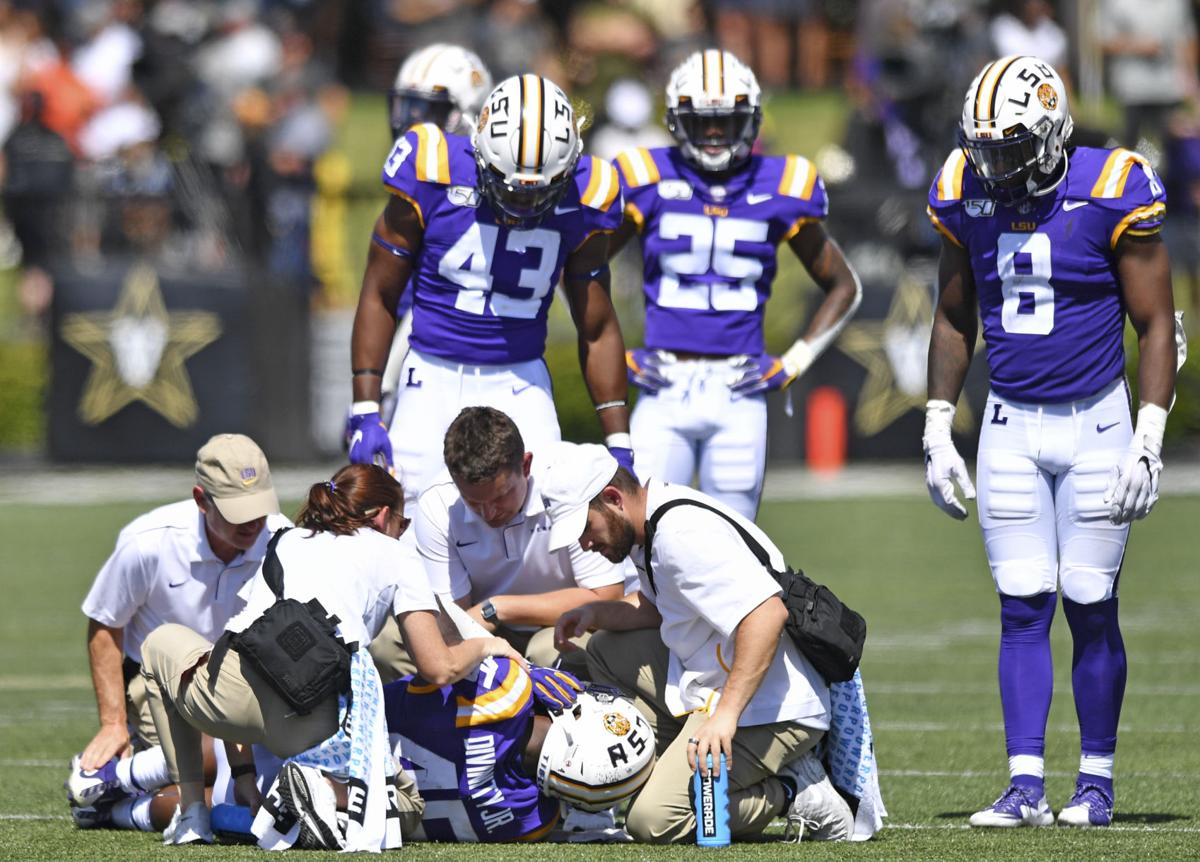 Safety and Thorpe Award-winner Grant Delpit played on one ankle for half the schedule; a hurt Rashard Lawrence was unable to get a good push for much of the year; senior Divinity Jr was out at first for an injury against Vanderbilt before he left the team for personal reasons prior to the Alabama game; backup corner Todd Harris tore his knee ligaments and is out for the season, 2nd-leading sacker Glen Logan also went down vs Vanderbilt before returning, and future 1st Round pick in the NFL Draft K'Lavon Chaisson battled against the knee problems that took his 2018 season.
Tell me any team that can play commanding defense without their NFL-ready safety, star linebacker, three best pass rushers and psychological leaders...no defense in college football could've accomplished what Dave Aranda has with as many big players out or banged up.
No excuses though, the Tigers' defense hasn't been their usual selves until the last month and a half, with the embarrassing 58-37 Ole Miss game igniting the defense to improve right as Aranda's injured starters returned to full health.
Lincoln Riley should be highlighting Ole Miss's 400 rushing yards and 600+ overall against the Tigers as a blueprint for success: most of the big Ole Miss plays in that contest came on the heels of a fast LSU touchdown drive and against Aranda's starters.
To prove how LSU's offense can affect their defense, Ole Miss were held to only a single score in the 1st half, but then came out and scored 30 points in the final two quarters as LSU's offensive drives became more frenetic and the already gassed Bayou defense was sent out there time after time after time.
The same situation happened against Florida: Joe Burrow and co. dropping 42 points in 48 plays, though the Gators offensive deficiencies came to the surface late and the LSU defense made crucial plays down the stretch to pull away.
Though unlike Florida, Oklahoma won't have many weaknesses on the ground or in the air, especially with such great play-callers running the show.
"They're the fastest team we've seen on film," Tigers Coach Ed Orgeron said the other day when speaking of the Riley/Bedenbaugh offense, although the Sooners haven't played a defense as fast as Aranda's crew either.
Much like the time of possession from Riley's offense can stunt Burrow's rhythm, Joe must grind out a few drives in the 3rd and 4th quarters instead of finessing the ball down the field every time. This'll help recharge LSU's front seven, it would stop the big plays from Hurts, Lamb, Rambo or Brooks, and could prevent the same huffing and puffing on their own defense.
The truth is: sometimes, as we've seen with LSU's real Greatest Show On Turf, playing fast doesn't speed the game up...it can actually buy a fantastic offensive mind and a gutsy, warrior quarterback time to make adjustments.
In being more methodical at certain points in the game, the Tigers win in multiple ways:
A) They're able to control the game, much like in the wins against UGA, Texas A&M and Auburn
B) They're able to keep their defense fresh
C) This strategy buries Jalen Hurts and Ceedee Lamb on the bench and prevents the quarterback and receiver from getting any chemistry going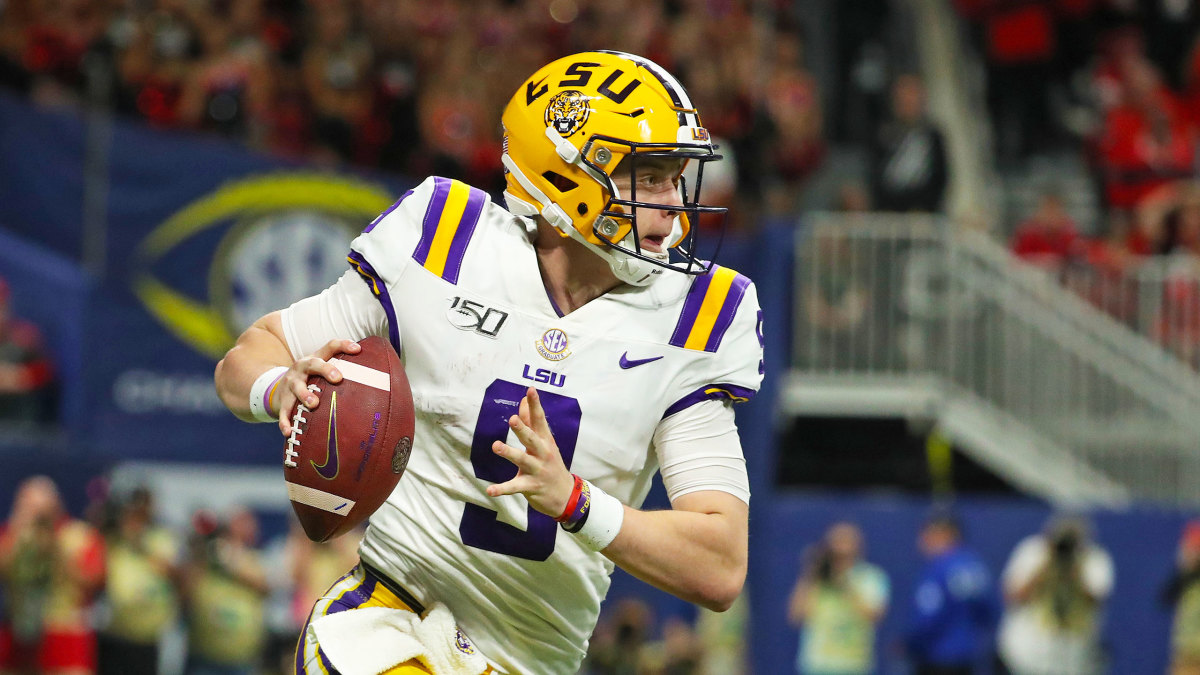 and
D) This "patiently aggressive" approach, like we saw against UGA, would actually speed the game up, increasing the margins of error for Oklahoma and offering Lincoln Riley less time to come up with offensive solutions.
This strategy will supply D-line anchor Rashard Lawrence with all the energy and rest he needs to cause chaos in the Oklahoma backfield.
In those trenches, Lawrence's edge-rushing partner Glen Logan and nose tackle Tyler Shelvin will face Adrian Ealy, left tackle Eric Swenson and sophomore starter Creed Humphrey at center, and this will be a match-up guaranteed to bloody the lens: be advised, regardless of how many points these teams score, both are capable of knocking the living hell out of an opponent.
For OU's D-line, they must attack with as many bodies as possible, making quick substitutions highly critical. Oklahoma's D-line has been at their best when attacking the line of scrimmage with disguised blitzes from the linebackers or secondary.
In lieu of the suspended Ronnie Perkins, look for Kenneth Murray or Marcus Stripling to try and pick up the slack against the best offensive line in the country; but expect Austin "Re"Deculus, Badara Traore, Lloyd Cushenberry III, Adrian McGee and Shaadiq Charles to win most of the battles in Ronnie's absence.
Prediction: The only way the Sooners defensive line can win their match-ups or even plug the gaps?
Getting off to a fast start in the stance, busting Deculus or Cushenberry quickly off the line and staying committed to hard-nose, old school "rough em 'up" football.
The last critical offense vs defense question we must answer:
Will Edwards-Helaire play?
Should he play?
And if he doesn't, who should replace him?
My solution: we dress Clyde, we put him in pads and we keep him available if he's needed, just so Alex Grinch and his staff must waste valuable time watching tape on a guy who most likely won't play.
Although the guys who will play are absolute specimen: John Emery Jr. and Ty Davis-Price.
LSU should start the game by showing Oklahoma some power formations in the run attack behind Davis-Price before introducing 5-star recruit, John Emery Jr for a gut-check change of pace. Once they open up the screen game to Emery (or Edwards-Helaire if he plays) and the little slants over the middle to Ja'Marr Chase and Jordan Jefferson, Joe Burrow will establish a rhythm that's akin to a heavy metal band hanging out with Tom Brady.
We get it: LSU's passing attack is scary good and we love watching it just as much as you do, but if LSU want to beat Oklahoma and win a national title, they need all the dimensions to their offense firing on all cylinders, including the ground game.
Once they've ingrained this slightly tweaked run attack and confused Oklahoma with their variety of runners and personnel combinations, then Joe can put the pedal to the metal and run Ensminger and Brady's play action concepts against a stretched, hampered Sooners secondary.
We highlight Oklahoma safety Justin Broiles as a player who will struggle against such an exquisite football mind as Joe Burrow and the movement key offense he runs with an intrepid brilliance. Broiles must also anticipate when Joe runs up the gut in the open gaps against the blitz, something we've seen set up the massive plays for LSU.
And though the YouTube "vloggers", ESPN talking heads and fansite writers are directing all the pressure towards Joe Burrow and the passing attack in the wake of Edwards-Helaire's hamstring injury, the 2019 Peach Bowl is primed for John Emery Jr, aka the "Bayou Blur" to have his breakout game.
Earlier this season, Joe Burrow once called a timeout and screamed in fury for Emery's removal from the game after a supposed screw-up from the freshman and we hadn't seen him for more than a few pointless carries until late in the Mississippi State game. Then, after a Joe Burrow-led destruction of rivals Arkansas, John Emery Jr had his moment: he ran off a miraculous 39 yard touchdown run to put an exclamation point next to the rivalry win.
He shows fantastic escapability, he's slippery, he's patient and he can make 5 star athletes miss, all components of Edwards-Helaire's success.
With Joe Burrow as your quarterback and with that offensive line, how could John Emery Jr not have a breakout game?
In a season where all the stars have aligned and every conceivable LSU talent announced themselves on the world stage, this is a challenge we're officially giving the "Bayou Blur": tear up Oklahoma, John, come on!
Emery Jr will be something special...whether it's in 2019 or January 2020, or much later, is up to him, the LSU coaching staff and Edwards-Helaire's hamstring.
As for the current delicacy of EH's leg muscles, Coach Orgeron and team doctor Brent Bankston have to manage Edwards-Helaire's hamstring and keep him on the sidelines, only using him in case they really need him....
...Losing #22's pace and influence against Oklahoma is a headache, although if he were to tear his hamstring beyond repair after only a few meaningless plays in the semifinal and were to miss the title game, it would be a catastrophe going up against better defenses in Ohio State and Clemson.
PREDICTIONS
In a contest where the offenses appear impossible to stop, a single turnover could be all Joe Burrow needs to finish this game off with an unassailable lead...or it could be just what Jalen Hurts needs to get back on the field and connect with Ceedee Lamb, gas the LSU front with Kennedy Brooks and try to let his running ability take over.
However, could it really be anyone other than LSU as the team I favor most to grab a pick, force a fumble or defensively score? LSU haven't scored on defense all year, in fact they've surprisingly only scored one defensive touchdown in the last three seasons...but they're due.
With 16 interceptions on the season, LSU is #5 in the country in picking off your quarterback, they've forced 9 fumbles, collecting 4 recoveries, have batted down 70 passes on the dot and held most teams on their schedule under 20 points.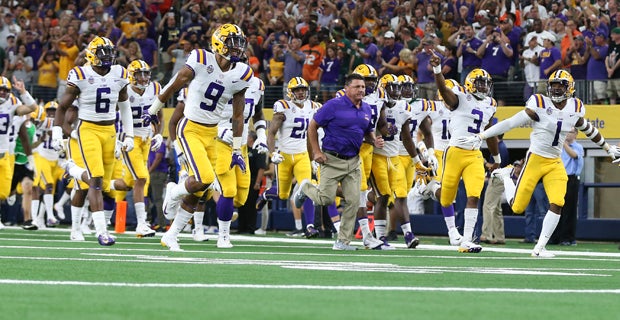 This disrespected defense is special, they're posting a turnover margin of 0.8 (16th in the nation and only behind 'Bama in the SEC) and are damn-near automatic when handing Joe Burrow the ball, no matter what the situation.
Due to the LSU defense playing as well as their offense recently, I feel they'll show up in this game with a bigger chip on their shoulder than Dabo Swinney and his "Oh so offended" / "You Mad, Bro?" Clemson Tigers. Look for Jacoby Stevens, Patrick Queen, and Rashard Lawrence to manhandle the Oklahoma front and hand Burrow significantly more possessions than Hurts.
Jalen Hurts' unbelievable four-year run in the College Football Playoff will end in another defeat, but his legacy will live on as a true competitor....it just won't be enough.
LSU will be like a caged beast ready to pounce...and when Coach O unleashes these guys, they'll be ready to play.
"It's ball time, it's focus time, it's playoff time," a stern, fast-lipped Coach O told ESPN's Marty Smith on location in Atlanta, where LSU has already arrived with families in tow for a little Christmas business trip: these guys want one present and one present only this year and that's the national title ring they all deserve for such a hysterically memorable season.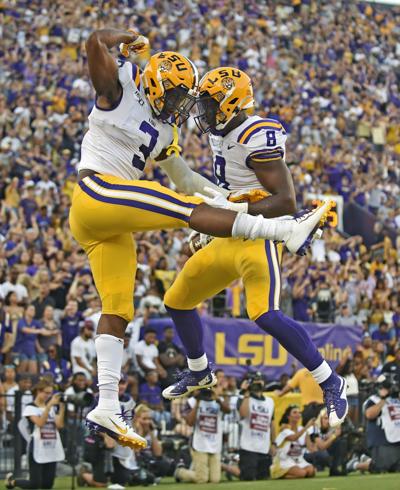 LSU's Jacoby Stevens will intercept Hurts on Oklahoma's opening drive and will cash it in for 7, then later in the 1st quarter, John Emery Jr will catch a pass out in space, make Sooners miss and will score to put LSU up 17-0 early.
For dramatic implications, Oklahoma score from two big plays, one from a bomb to Lamb and another after Hurts scrambles into the end zone to cut it within 3 points going into halftime 17-14...but Sooners fans should turn off the game right there.
Even with a hampered Clyde Edwards-Helaire, LSU will throw the ball nonstop, using the short passing game as a run attack and they'll chip away at Alex Grinch's men. Burrow will throw for 5 touchdowns, 511 yards with only a handful of incompletions and the Tigers will win this one 44-17.
The dream season will continue in the do-or-die title game in Bayou Country...down in Nawwwlins: the scene of the crime in January 2012 where then #1 LSU disappointed and were shut out in a pathetic showing after a storied, celebrated and honored run to the title game.
But this is not that team....and this isn't that coach.
This is a different animal altogether, something Oklahoma will soon find out.
We comin'.

By LONN PHILLIPS SULLIVAN

What do you think, damnit?